Functional Group Classes + Timetable
We are so pumped to be able to offer Functional Group Classes at our Myolab Brunswick East Clinic!
To fully enable us to help you on your journey, we have created our very own functional group circuit classes to maintain your newly found functional strength and movement patterns.
These classes provide specialist group coaching by your very own qualified practitioner, to ensure technique, skill, patterns, and high quality programs are achieved.
This is extremely exciting, as it is unusual to have this sort of closely monitored training in a group environment, as we want to be sure that you are getting the best possible outcomes for your body!
MUMS & BUBS
We also currently offer one class of Mums & Bubs Functional group class, 12pm on Thursdays. Perfect for post-natal mums, with a specialised class focusing specifically on re-training the body after childbirth and all of the changes that go along with being pregnant. The babies are also included in the class if you wish, with many exercises being adapted to include the babies! Any level of fitness, as everything can be adapted for you!
WHAT TO EXPECT:
Correct technique being taught
Working on strengthening movement patterns to get your body working better as a unit
Strengthening all of your weak areas of the body
Agility, skill, proprioception, coordination & strength improvements
Small groups, with your highly qualified practitioner taking the class
Functional movement training which includes working on enabling you to move your body without pain and greater ability
Circuits and lots of other fun stuff!
Continual improvement of fitness, or following your time doing 1:1 rehab with your practitioner and ready to maintain your body functionality
If you're unsure as to whether this is right for you
TIMETABLE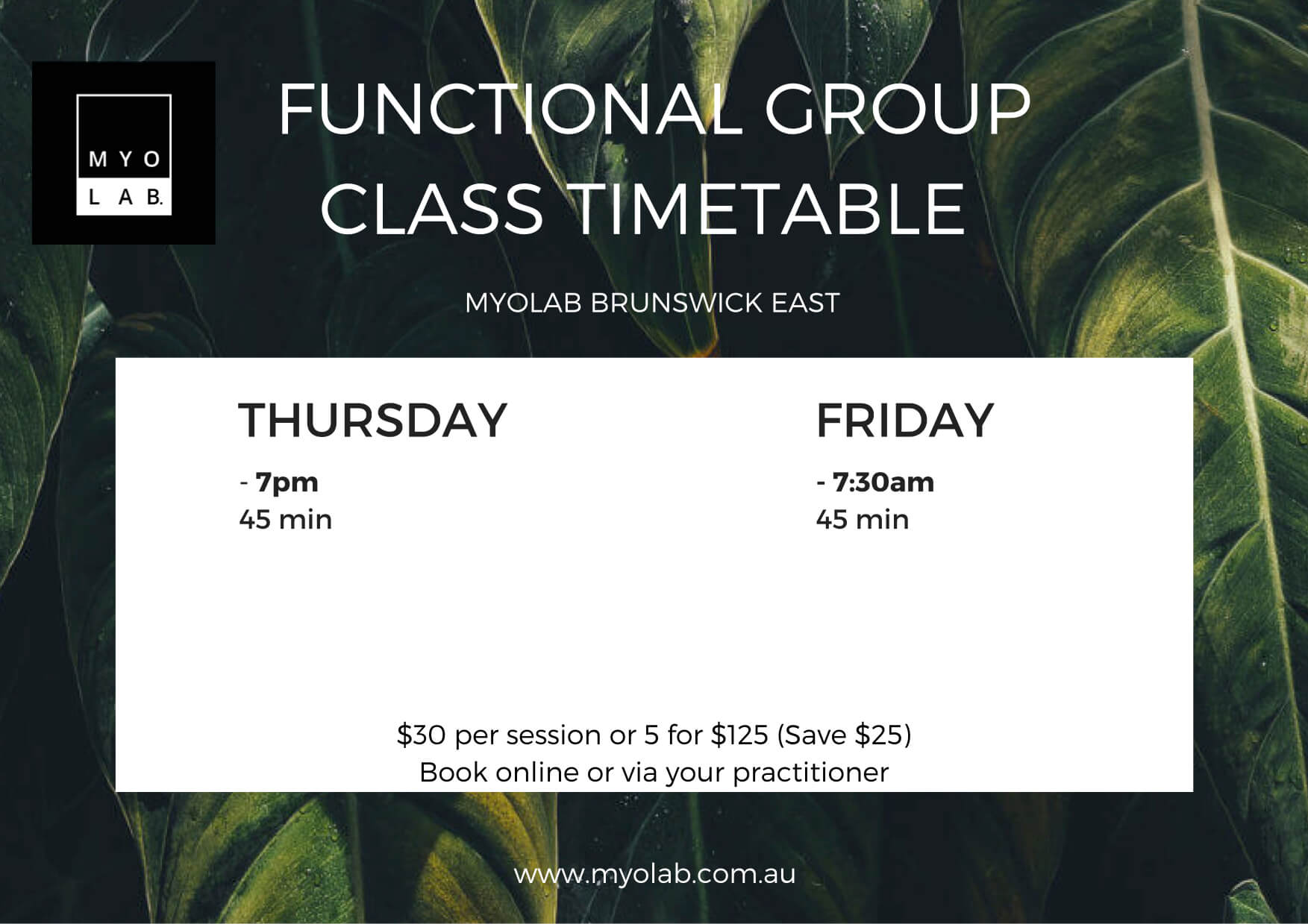 Book in online HERE or send us an email to contact@myolab.com.au, or give us a call on 99172408 and someone will get back to you shortly!
We're looking forward to having you in class!
MYOLAB BRUNSWICK EAST